I co-host Blogger Club UK linky & community with the lovely Clare from Mudpie Fridays. The linky runs from 6am Wednesday – 12 midnight Friday GMT where all bloggers are welcome to add any type of post they like. The Blogger Club UK community & linky are not limited to the UK – we'd love to have bloggers from all over the world join us. Clare & I will comment on all linked posts between us & we each choose a favorite post to feature the following week.
If this is your first time joining us, please check out the Blogger Club UK Page for more details about the community & linky.
Welcome to the Blogger Club UK!!
I'm DELIGHTED to announce that for the FORTH week in a row, #BloggerClunUK was TRENDING ON TWITTER! Keep up the great tweeting everyone & let's get trending again! x
Featured Bloggers
THANK YOU so very much to you lovely lot for linking up last week. It's so tough to choose with so many quality posts linked up, but Clare & I each pick two favorite posts to feature each week. Featured posts will be tweeted & given links from both our blogs. If yours is chosen, grab your featured blogger badge below – you can add it to your sidebar or use it as your badge for linking up.
One of my favorite post last week came from One Messy Mama – 20 Positive Phrases My Children Need to Hear I love the positivity in this post & agree totally that praising your children does amazing things for their self-esteem.
Another one of my favorite posts last week came from Sarah and Louse Mum's the Word – Doing Battle with 'The Bulge'  This is such a fun read! I laughed out loud at several points & can totally relate!
One of Clare's favorite posts last week came from Island Living 365 – Is the Government Killing Creativity
Another one of Clare's favorite posts last week came from Queen of my Castle – What you need to know if you're raising boys
Note: In order to qualify to be chosen as a featured post, you must have our badge or a backlink to one of our blogs.
New Co-Hostess 
My gorgeous co-hostess Clare is hosting her last #bloggerclubuk linky this week as it's time for her to get ready for baby #2! The fabulous Debbie From My Random Musings will be joining me as co-host next week! So you can link up here or over on Debbie's blog. Debbie will tweet reminders to Clare's regular linkers starting next week.
#BloggerClubUK Linky Rules:
1.  Add our badge to the HTML / Text portion of your post. Or, add a back link to one of our blogs using #bloggerclubuk. If you need any help linking up, read my Linky Guide or tweet us, we are happy to help!
2.  Please comment on one of Clare's posts, one of my posts, & one other of your choice. Please Tweet the post directly before yours. Feel free to comment on more but please do those 3 as a minimum! The more comments you leave, often the more comments you get back in return & that strengthens the community.
3.  Link a maximum of 1 post per week.
4.  The linky will close at midnight Friday GMT or at 150 posts – whichever comes first.
5.  Tag myself & Clare on Twitter with #BloggerClubUK for a RT @CuddleFairy @MudpieFridays with #bloggerclubuk – let's get trending again!!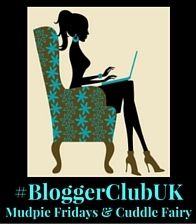 Featured Blogger Badge
Anyone who has been featured as a favorite post on Blogger Club UK may use this badge. Congrats x
Please note that by linking up you subscribe to our (future) email reminder list.
Thanks so much for joining us!! I look forward to reading your posts. x