I co-host Blogger Club UK linky & community with the lovely Clare from Mudpie Fridays who is currently on maternity leave. I'm delighted to welcome Debbie from My Random Musings to join me as co-hostess! The linky runs from 6am Wednesday – 12 midnight Friday GMT where all bloggers are welcome to add any type of post they like. The Blogger Club UK community & linky are not limited to the UK – we'd love to have bloggers from all over the world join us. Debbie & I will comment on all linked posts between us & we each choose two favorite posts to feature the following week.
If this is your first time joining us, please check out the Blogger Club UK Page for more details about the community & linky.
Welcome to the Blogger Club UK!!
It's beyond exciting that we were trending on twitter again! For the fifth week in a row – you guys are the absolute best! Thanks so much for using the #bloggerclubuk tag on your tweets!! It means so much to us! Keep up the great tweeting everyone & let's get trending again! x
Please give a big welcome to Debbie from My Random Musings who is filling in for Clare who has officially started her maternity leave. Tag us both for a RT @randommusings29 @CuddleFairy
Featured Bloggers
THANK YOU so very much to you lovely lot for linking up last week. We are so happy that this community continues to grow. It's so tough to choose two posts each to feature with so many quality posts linked up! Featured posts will be tweeted & given links from both our blogs. If yours is chosen, grab your featured blogger badge below – you can add it to your sidebar or use it as your badge for linking up.
My favorite posts are…
6 Struggles of a New Parent by Babies, Biscuits and Booze
My Children are Vegetarians and Other Confessions of Guilt by Sarah and Louise Mums the Word
Clare's favorite posts are…
Growing Pains by Diary of an Imperfect Mum
Note: In order to qualify to be chosen as a featured post, you must have our badge or a backlink to one of our blogs. Debbie will choose two posts to feature on next week's Blogger Club UK!
Spring Giveaways
To celebrate the lovely sunshine finally coming to Ireland, I've launched a spring giveaways post. Pop over & enter for your chance to win some lovely prizes:
An Earth Day CD & Activity book by Daria (3 sets up for grabs)
Nimble Babies Milk Buster, a mild wash that removes milk residue & odor (2 winners will each receive 2 bottles)
An adorable doggie key/handbag chain by Marc Cain.
Enter here – Spring Giveaways.
#BloggerClubUK Linky Rules:
1.  Add our badge to the HTML / Text portion of your post. Or, add a back link to one of our blogs using #bloggerclubuk. If you need any help linking up, read my Linky Guide or tweet us, we are happy to help!
2.  Please comment on one of Debbie's posts, one of my posts, & one other of your choice. Please Tweet the post directly before yours. Feel free to comment on more but please do those 3 as a minimum! The more comments you leave, often the more comments you get back in return & that strengthens the community.
3.  Link a maximum of 1 post per week.  Debbie & I will leave two links as we ask you to comment on one each so we want to continue to give you a choice over which one you choose.
4.  The linky will close at midnight Friday GMT or at 150 posts – whichever comes first.
5.  Tag myself & Debbie on Twitter @CuddleFairy @randommusings29 with #BloggerClubUK for a RT – let's get trending again!
Featured Blogger Badge
Anyone who has been featured as a favorite post on Blogger Club UK may use this badge. Congrats x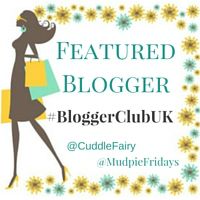 Please note that by linking up you subscribe to our (future) email reminder list.
Thanks so much for joining us!! I look forward to reading your posts. x