I co-host Blogger Club UK linky & community with the lovely Clare from Mudpie Fridays who is currently on maternity leave. Debbie from My Random Musings has joined me as co-hostess! The linky runs from 6am Wednesday – 12 midnight Friday GMT where all bloggers are welcome to add any type of post they like. The Blogger Club UK community & linky are not limited to the UK – we'd love to have bloggers from all over the world join us. Debbie & I will comment on all linked posts between us & we each choose two favorite posts to feature the following week.
If this is your first time joining us, please check out the Blogger Club UK Page for more details about the community & linky.
Welcome to the Blogger Club UK!!
SO despite knocking on all the wood in my house, I still had site issues again last week. I recently switched to TSO Host, who I have heard amazing things about. Unfortunately, I switched over during their worst technical difficulties ever. But what else would I expect to happen? lol Hopefully this week's Blogger Club UK goes off without a hitch. Fingers, legs & arms crossed here!
We were trending again last week! You guys are the BEST! Thanks so much for using the #bloggerclubuk tag on your tweets!! It means so much to us! Keep up the great tweeting everyone & let's get trending again! Tag myself & Debbie for a RT @randommusings29 @CuddleFairy
Featured Bloggers
THANK YOU so very much for joining us last week! There are always so many quality posts to choose from. Debbie & I each select two posts to feature on the following week's linky page.
Featured posts will be tweeted & given links from both our blogs. If yours is chosen, grab your featured blogger badge below – you can add it to your sidebar or use it as your badge for linking up.
My favorite posts are…
Nine Ingredients for a Successful Blog by Tea or Wine.
Where do Babies Come From? by Life, Love & Dirty Dishes.
Debbies favorite posts are…
When Mommy Bloggers Go to War by Life with Baby Kicks
The Inner Monologue of an Unfit Mother by Mumzilla
Note: In order to qualify to be chosen as a featured post, you must have our badge or a backlink to one of our blogs.
THANK YOU SO MUCH
Thank you so much to everyone who voted for me for the BiBs & for the Boots Maternity & Infant Award. I can't thank you enough!! I am thoroughly delighted to be recognized. If you haven't voted & have a spare minute, I'd be so grateful if you could vote for cuddle fairy below. The easiest way is to login with Facebook & hit register at the bottom (you don't have to enter your details). Thanks so much xx
#BloggerClubUK Linky Rules:
1.  Add our badge to the HTML / Text portion of your post. Or, add a back link to one of our blogs using #bloggerclubuk. If you need any help linking up, read my Linky Guide or tweet us, we are happy to help!
2.  Please comment on one of Debbie's posts, one of my posts, & one other of your choice. Please Tweet the post directly before yours. Feel free to comment on more but please do those 3 as a minimum! The more comments you leave, often the more comments you get back in return & that strengthens the community.
3.  Link a maximum of 1 post per week.  Debbie & I will leave two links as we ask you to comment on one each so we want to continue to give you a choice over which one you choose.
4.  The linky will close at midnight Friday GMT or at 150 posts – whichever comes first.
5.  Tag myself & Debbie on Twitter @CuddleFairy @randommusings29 with #BloggerClubUK for a RT – let's get trending again!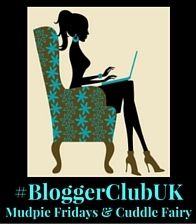 Featured Blogger Badge
Anyone who has been featured on Blogger Club UK may use this badge. Congrats!! x
Please note that by linking up you subscribe to our (future) email reminder list.
Thanks so much for joining us!! I look forward to reading your posts. x