Welcome to Candid Cuddles Quote Linky! This linky is a chance to be creative and share a message. Your quote can be anything you want to share! You can type a quote or create a graphic. I co-host with the fabulous Katie from Growing Up Kater Tot. Be sure to check out her wonderful blog & see which quote she choose as last week's favorite!
Thanks so much to everyone who linked up last week.  I really enjoyed reading all of your uplifting and fun quotes! I look forward to them every week. If this is your first time visiting Candid Cuddles, you are very welcome!  If you need any help linking up, read my Linky Guide. Feel free to ask me any questions via the comments or Twitter, @CuddleFairy.
My favorite quote last week came from Domesticated Momster.  Her quote is so beautiful & sums up motherhood so perfectly for me!
Candid Cuddles: 
*  Will be open from Sunday 6:00pm  – Thursday 6:00am (Irish Time).
That's Sunday 1:00pm – Thursday 1:00am EST.
*  Katie & I will comment on all linked posts. We will share them on social media & add all quote graphics to the Candid Cuddles Pinterest board – check it out!
The Rules:
1.  Add our badge to the HTML / text portion of your post.
2.  Comment on the Host Posts & at least 2 other posts. The comments are what makes a linky great. Please add #candidcuddles to your comments & social media so more people join in.
3.  Tag us @CuddleFairy & @GrowingUpKTot on Twitter for a retweet.  Remember, #candidcuddles – let's get trending 🙂
 Please Note: By linking up, you give us permission to share your image and agree to receive correspondence about future link-ups.
Thanks so much for joining in! Grab the badge & join in the quote fun!!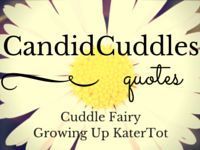 CHANGE TO CANDID CUDDLES:  We have noticed a few people who are not including our badge and/or are not commenting.  A linky doesn't work without everyone following the rules. From now on, anyone who doesn't include our badge or anyone who does not comment on other posts will be removed.  Thank you so much to everyone who has included our badge on your post, & commented on other posts.  We really appreciate it!!